We're Proud of Our Cultural Heritage.
Carabao Island, also known as Hambil, is a hidden gem in the Romblon province of the Philippines. Its tranquil and unspoiled beauty offers a refreshing escape from crowded tourist destinations like nearby Boracay.
Blessed with a rich cultural heritage, Carabao Island takes pride in its vibrant festivals, highlighting its unique traditions and customs. These festivals allow visitors to immerse themselves in the local culture and provide a glimpse into the island's colorful history.
From the lively street dances of the Sinadya sa Hambil Festival to the awe-inspiring religious processions of the Lambayok Festival, Carabao Island offers a truly authentic and captivating experience. So, Carabao Island is the perfect destination if you seek a serene and culturally enriching getaway.
Also, we'd love for you to join us for boat races, bicycle road rallies, music concerts, basketball and boxing championships, and festivals throughout the year. This is a fun place!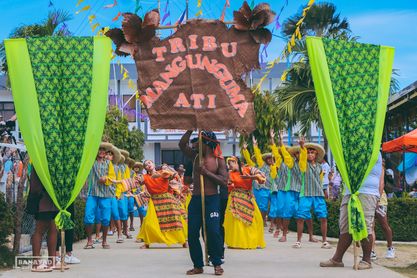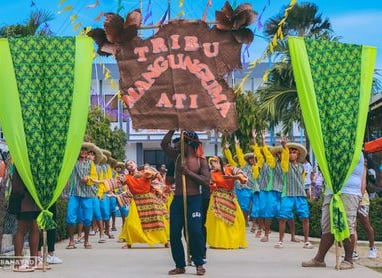 Despite being a relatively small and less-visited island compared to its neighboring tourist hotspots, we have a rich cultural heritage and celebrate several vibrant festivals that showcase the island's traditions and customs. Here are some of the notable festivals celebrated on Carabao Island:
1. Karayawan Festival: The Karayawan Festival is the island's most significant cultural event, held annually in honor of St. Isidore the Laborer, the patron saint of farmers. The festival usually takes place on May 15th. During the festivities, locals engage in traditional activities like the "Panayog" (a ritual dance), the "Karayawan Agro-Industrial Trade Fair" (where agricultural products and local crafts are displayed and sold), and various sports competitions. The Karayawan Festival is a time for gratitude for the bountiful harvest and a celebration of the island's agricultural roots.
2. Biniray Festival: Biniray Festival is another important celebration on Carabao Island, held every third Sunday of January. This vibrant event commemorates the island's conversion to Christianity. The festival features colorful street dances, processions, and other cultural performances that express the island's deep religious and historical significance. Participants and spectators don traditional clothing, and the streets come alive with music, dance, and a sense of community spirit.
3. Feast of Our Lady of the Holy Rosary: Celebrated on the 7th of October, the Feast of Our Lady of the Holy Rosary is a religious event dedicated to the Blessed Virgin Mary. It is a time for prayers, processions, and various religious ceremonies in honor of the island's patron saint.
4. Parada ng mga Konsulado: This festival is a showcase of the island's unity and cooperation among its barangays (villages). The Parada ng mga Konsulado, held during the Biniray Festival, features colorful parades, cultural performances, and competitions between the different barangays. It promotes camaraderie and fosters a sense of pride and identity among the local communities.
These festivals offer a unique opportunity for visitors to experience Carabao Island's vibrant culture, witness its colorful traditions, and interact with the warm and hospitable locals. If you're planning a trip to Carabao Island, try to time your visit during one of these festive occasions to immerse yourself in the island's rich cultural heritage.
You'll Enjoy Our Year-Round Festivals and Events!